Last night I went to a Wyndham Small Business workshop. Every month or so there's a free event covering different business-type stuff.
I know a little about SEO but not a heap. When you work in larger organisations that sort of stuff sits with the Marketing team. And when you're working on product design (not website design) it's not really a huge consideration.
The key stuff I learnt was:
Get a keyword strategy going using the Adwords Keyword Planner Tool
Research keywords using the Adwords Keyword Planner tool. You have to sign up for a Google Adwords account and give Google your credit card details. But access to the Keyword Planner is free. You only pay when you want to run an ad. And for people starting out, paid advertising is probably not the best way to go.
http://adwords.google.com/keywordplanner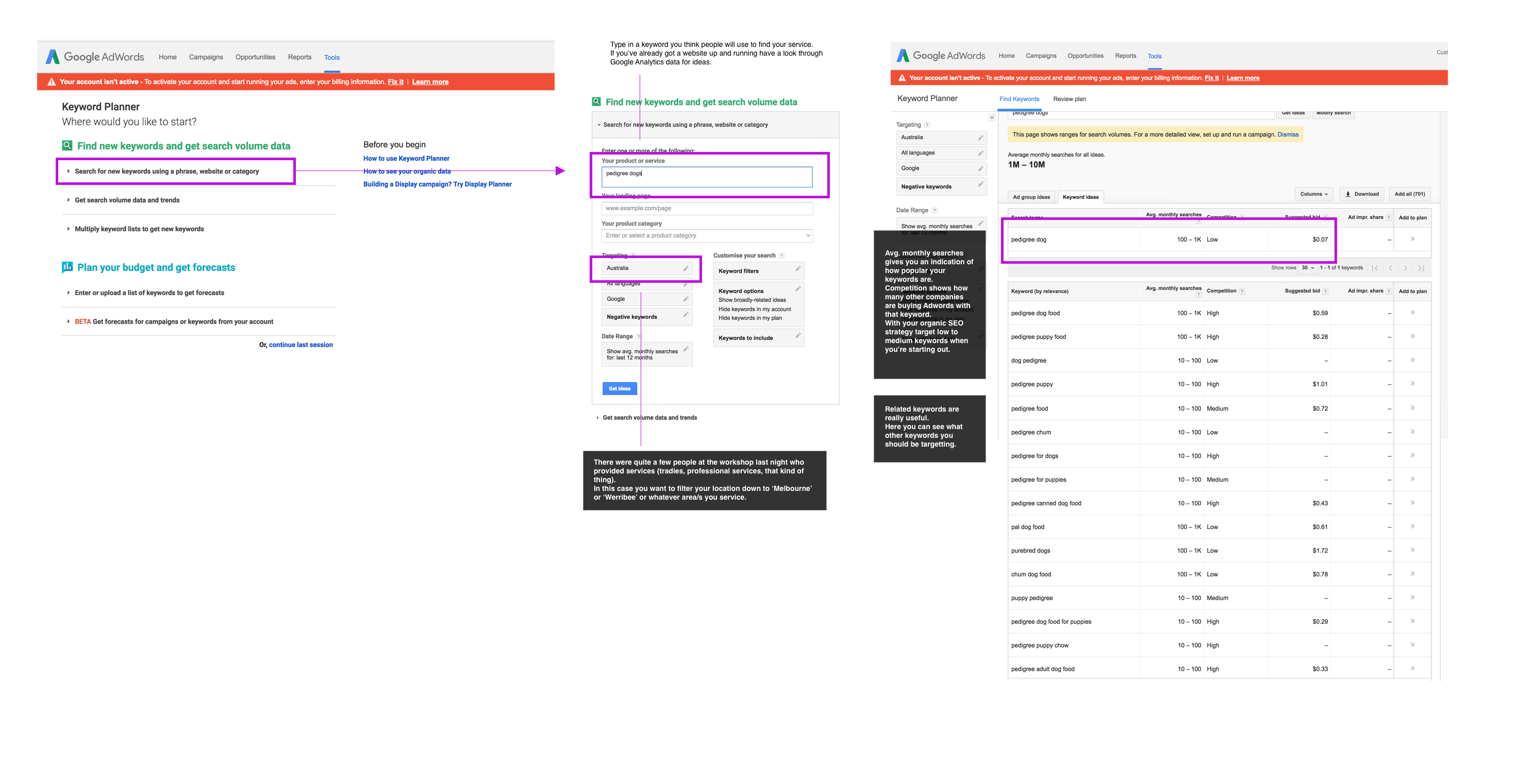 Use the keywords to plan out your blog posts and your website copy.
A good rule of thumb we were taught last night:
Short tail keywords – e.g 'shoes'. Much harder to optimise your SEO for, and also indicates the person is at the start of researching a product or service. They're definitely not ready to buy yet.
Long tail keywords – e.g. 'adidas super-runner blue size 7 geelong'. The person is ready to buy and knows exactly what they want. Much easier to optimise your SEO for.
2. Aim high! In the top 3. 
Being on the first page of Google Results for your keyword should be your goal. The top 3 is the ultimate goal.
3. Write blog posts, tutorials, use pics, generally content is good
Use your keyword research to plan out your website content strategy. Short-tail keywords = tutorials and blogposts and articles.
Long-tail keywords = product pages.
4. Make sure you've got an alt tag on every image. Make sure it's descriptive. 
You want those images to come up under Google image search. And hey, it's web best practice. And it makes things accessible.
5. Rename your images to be descriptive.
Same as above. Ditch dcn000019.jpg. Rename it to something descriptive.
6. A different meta description on every page. 
7. The longer a person stays on your website the higher Google will rank you. 
I did not know this.
8. General rule of thumb. If you're a professional service aim for about 1.5 mins on your website. If you're selling products aim for about 8 mins on your website.
9. Also use Webmaster tools, submit a sitemap, post on Google+ (no one will read it except for the Google bots, so that'll help your SEO efforts) (and make you look like a banana because you're talking to yourself on Google+).
10. Make sure you're structuring your webpages using proper standards. H1 gets used once, H2 for subheadings etc etc.
Generally good web practice.
11. Make sure your website works on different screensizes including mobile. Google now penalises if it doesn't.
12. Backlinks help your SEO efforts. Backlinks are when another website links to you. If you get a backlink from a .gov.au website that is worth its weight in golden backlinks.
13. Testimonials are good. If you're a professional service make sure people can leave reviews on Google (or facebook). Reviews left on a third-party site have a lot more credibility than the ones on your website. Integrate the third party reviews onto your website if you can.
14. Make sure you're on Google My Business if you're a restaurant or a service etc.
15. Be patient and play the long game. Making a few tweaks to your keywords won't result in an overnight SEO sensation. Think of SEO as one part of your broader sales & marketing strategy.